QTURNS2: The past 2 years and the next 5...
Lift Off
Q Underwriting was created on 01 January 2019 as a single regulated entity to unify specialist underwriting brands Thistle Underwriting, TFP Schemes and aQmen Underwriting. Online Risk Solutions, which has integrated into Thistle Underwriting, and Cobra Underwriting Agencies have since joined us.

Launching Q was an initiative for the benefit of brokers and insurers alike; overnight, our single, unifying TOBA provided our brokers with access to an average of 17 additional products and our insurers with distribution to an average for 800 additional brokers.

We have since launched brokers' new, unified Qtrade portal – a single route into many of the 30+ specialist products on offer, with more being added weekly.
With easy online transactions available, Qtrade will never deplete the option for traditional, bespoke trading with underwriters.

Our centralised Sales and Marketing team has increased broker support and communications, helping brokers achieve their success with Q and guiding them through the pandemic. The team, dedicated to broker partners, has increased weekly touchpoints by over three-fold and has been overwhelmingly well received.

In the past 2 years, Q Underwriting business has shown significant growth from £70m GWP to over £100m GWP – demonstrating that the business is a strong, reliable partner for brokers and insurers alike.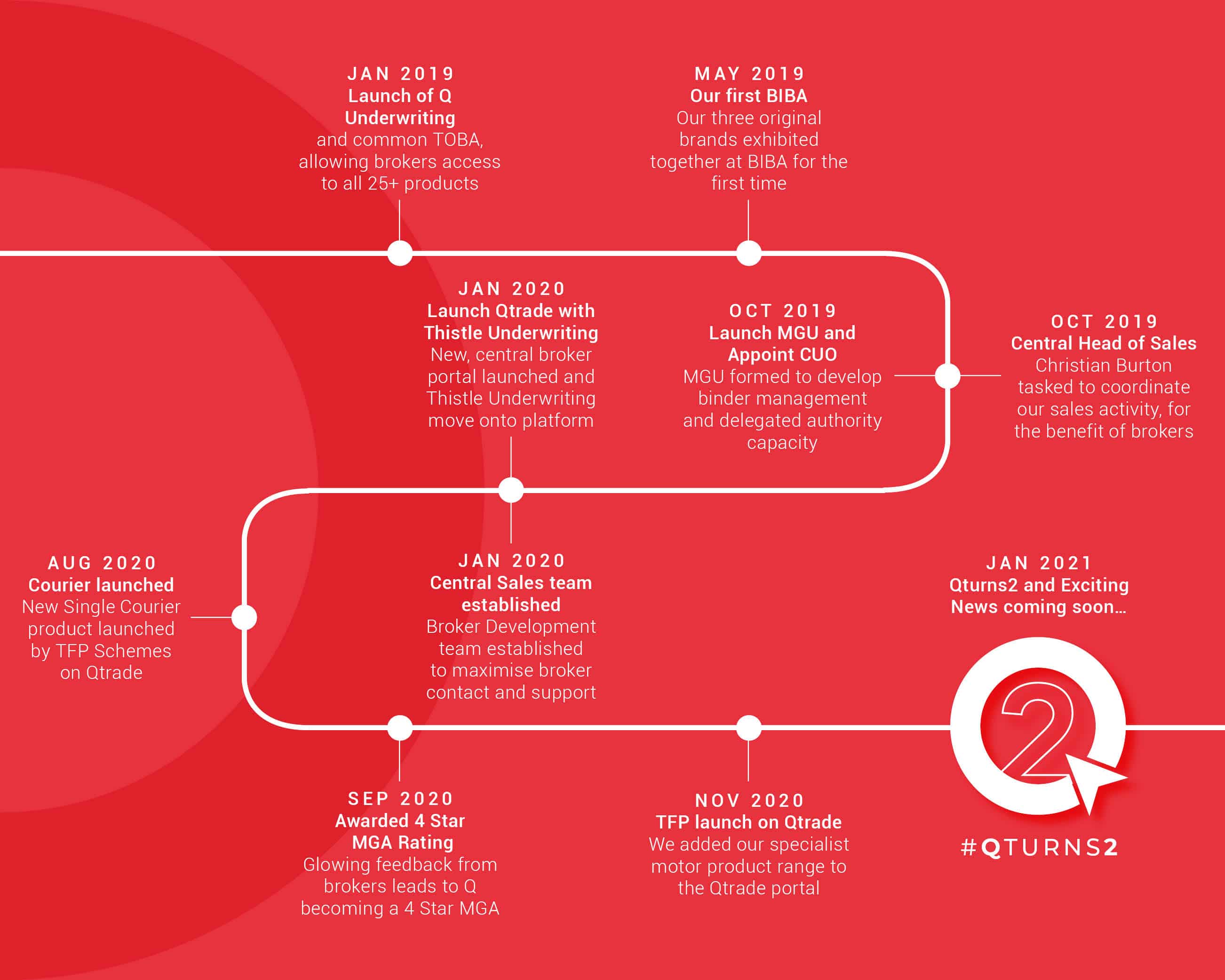 Right here, right now
Q Underwriting achieved strong reviews from broker partners across product and service in the MGA Star Rating Survey and is one of only a handful of MGAs with a current 4 Star rating. Our 150+ dedicated staff who work hard for our brokers and their clients was highlighted in the feedback as a strength of the business.
With a range of existing specialist products backed only by A rated capacity, Q continues to develop the benefits of an agency through building new propositions and we are very excited for some upcoming developments in our Property and Package division. Keep an eye out…
Our Managing General Underwriter (MGU) team was recently formed to focus on delivering results to insurer partners through data-driven underwriting practice and portfolio management, as well as securing new capacity for the MGA to deploy.
Building for the future
We're not slowing down.
The team is working hard on a new proposition within our Property & Package division, which will be announced very soon… Q is also recruiting additional underwriting talent to complement the existing team and to provide brokers with excellent service whilst ensuring profitable underwriting. We are very excited to tell you what's coming so keep an eye out…
Q Underwriting is a great place to work with proven underwriting and distribution pedigree – dynamic and entrepreneurial; it is a great place to set up shop, with positive relationships across a range of A rated insurers and we are a robust and reliable home for products, clients, and historical data. We want to talk to people who can contribute to and develop our pedigree, with established, in-depth underwriting experience.
What brokers say about us

We have been working with Q for some time on their liability product and have seen really positive outcomes for our customers. Their team's professionalism, product and industry knowledge is outstanding, and by matching access to a market leading product with their excellent service, Q play a fundamental role in helping us deliver on our promise to our customers.
Q-Underwriting is a fantastic MGA with a good product range that sits nicely under by panel of AAA+ Insurers. Their attitude is very much how can we help to secure the risk and are very proactive in their underwriting stance.

After an initial hic up, which was resolved quickly, on the whole it has been a pleasure to broke with Q over the past months. Documentation is always produced quickly and is clear to understand which is a bonus for my small end clients.
We find the appetite wide and the service reliable for new business. We use Q because they understand the charity and faith insurance market and the clients that operate in this sector. Their ability to quote on risk submission (instead of just online) is ideal because it makes the process much easier.