Q Underwriting awarded 5-Star MGA for our Construction Proposition
June 10, 2021
Following the recent broker survey, Insurance Business UK has awarded Q Underwriting the 5 Star MGA award for our Construction proposition. This is an important award for our business as brokers are our backbone and to be recognised by them as a leader in a specific field is extremely valued. Further details on the survey and the results can be viewed here.
The survey ran for 15 weeks and at the end of this period MGAs that received the highest ratings from brokers in terms of work quality, specialist expertise and client service were declared 5-Star MGAs for 2021. To illustrate this further below is a breakdown of the important factors which brokers considered when choosing an MGA.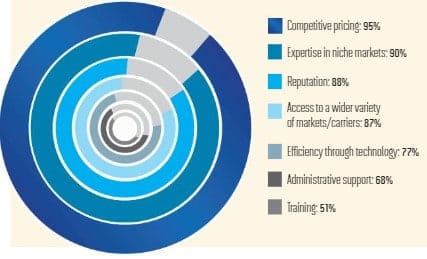 Our Construction proposition is offered through our sub brand Thistle Underwriting. Thistle Underwriting is well-known for their expertise in providing liability (and associated covers) for tradesmen, contracting, construction and other businesses and trades, including risks with non-standard features.
Q Underwriting is a robust and reliable partner for brokers; with all products backed by A rated insurers and underwritten in-house under delegated underwriting authority by an experienced, specialist team.
Details of our award winning Construction proposition can be viewed here: www.thistleunderwriting.co.uk/products/contractors-combined/
Q Underwriting is a specialist underwriter, providing over 30 niche commercial lines products – all backed by A rated insurers. Specialisms include construction, tradesmen and liability; charities, faith and recruitment; public and private hire, fleet and motor trade; and non-standard property. All our products are underwritten in-house by our experienced team.
To contact Q Underwriting call 01245 967150 or email enquiries@Qunderwriting.com